Literary Competition
Literary Competition
Literary is a competition that happens at the Region/Area and State levels. It is comprised of several different events in the Liberal and Fine Arts. The events included are as follows:
Music Events
Girl's Solo
Boy's Solo
Girls' Trio
Boys' Quartet
Oral Interpretation
Humorous Interpretation
Dramatic Interpretation
Duo Interpretation
Extemporaneous Speaking
International
Domestic
Essay
Argumentative
Personal
Rhetorical
Area Competition
February 28, 2020
Southeastern Technical College, Vidalia, GA
State Competition
March 14, 2020
GMC, Milledgeville, GA
MCHS Boys' Quartet 2020
The Quartet placed 1st at their Area Competition and will be headed to State on March 14, 2020.
Jacob Carpenter, Chris Flores, Landen Williams, Garrett Martin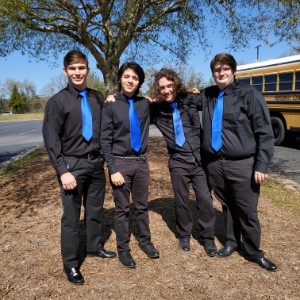 MCHS Girls' Trio 2020
The Trio placed 2nd at their Area Competition and will be headed to State on March 14, 2020
Jocelyn Sanchez, Kayla Williams, Jordan Hudson
Dramatic Interpretation 2020
Jasmine Prado